About CIT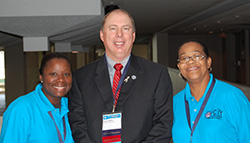 "Communities large and small are seeking answers to managing crisis issues and crisis services. When changes are mandated, community collaborations and partnerships are the key. Advocates have long asserted that law enforcement personnel often do not receive adequate mental health training, resulting in ineffective and sometimes fatal encounters or outcomes. In 1988, Memphis introduced the first Crisis Intervention Team as a vital component to the community's demand for safer first responder crisis services.

CIT partnerships led to changes in existing systems and stimulated the development of new infrastructures for services/care. Suicide attempts and mental health crisis concerns are recognized as a priority. Crises are about people, about our community, our families, our friends, and our loved ones. CIT is built and founded on principles of dignity, understanding, kindness, hope and dedication. Suicide encounters and those crises relating to mental illnesses are about our community, our friends, loved ones, and us. It is a fundamental requirement that crisis services and care are present."

- Major Sam Cochran-


Crisis Intervention Team (CIT)

The Memphis Crisis Intervention Team (CIT) is an innovative police based first responder program that has become nationally known as the "Memphis Model" of pre-arrest jail diversion for those in a mental illness crisis. This program provides law enforcement based crisis intervention training for helping those individuals with mental illness. Involvement in CIT is voluntary and based in the patrol division of the police department. In addition, CIT works in partnership with those in mental health care to provide a system of services that is friendly to the individuals with mental illness, family members, and the police officers.

Outcome research has shown CIT to be effective in developing positive perceptions and increased confidence among police officers; providing very efficient crisis response times; increasing jail diversion among those with mental illness; improving the likelihood of treatment continuity with community based providers; and impacting psychiatric symptomatology for those suffering from a serious mental illness as well as substance abuse disorders. This was all accomplished while significantly decreasing police officer injury rates.